All publicity is good publicity, the maxim goes, but I'm inclined to disagree. Sometimes things going 'out there' in the wrong way is counter-productive; and Fifty Shades of Grey is a great example of why this is so.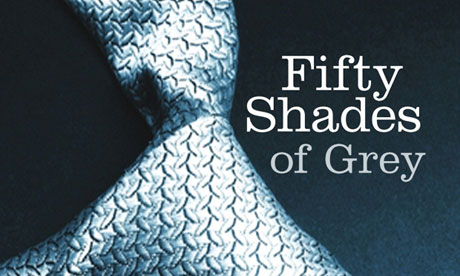 According to my friends at Sh! Womenstore and the sales teams at Ann Summers, Fifty Shades is good for business. Sales of nipple clamps, butt plugs and floggers are up, and this indicates a growing curiosity about BDSM amongst the British public. This might suggest that the book is opening people's minds and giving them permission to try something new. Perhaps this is true, but I maintain that the book itself is dangerous and detrimental to BDSM.
Enough has already been written about how bad a novel Fifty Shades of Grey is. Critics have highlighted the mediocre writing, the dull repetitive language and the absurd descriptions of sex. (If I ever hear the words 'his considerable length' or 'I shattered into a million pieces' again I'll hurl.) I particularly enjoyed Thea Euryphaessa's comprehensive dismissal of the book in a single paragraph:
[The book] is, in essence, Pygmalion with Paddles, My Fair Lady with Floggers, Pretty Woman with Whips. Oh, and the story's anaemic, the writing repetitive, the characters one-dimensional, and the plot poverty-stricken. But, then, what do you expect of a piece of fanfiction that owes its very existence to the Twilight series? (full article >>)
If the best-selling paperback of all time were simply a crap read I'd be disappointed but not surprised: the lowest common denominator for a poorly-educated populace. What really troubles me is the way BDSM is depicted in the book, and the potential implications this has for people who practice it in a sane, consensual way.
Firstly, there are the clichés. Christian Grey is impossibly handsome, ridiculously rich, bossy to the point of caricature and, of course, a Dominant. By contrast Anastasia Steele is gawky, insecure, unsure what she thinks and (ahem) a virgin at 21. With each of them playing so obviously to type there's little to compel any reader who knows the diversity of people who practice BDSM. Sure, there are those who dominate because they need to control everything, and those who submit because they wouldn't say boo to a goose; but equally there are those who crave submission because they control everything else in their lives and desperately want release from their wearying responsibilities; and others who are dominant in a BDSM context even though they are shy and meek the rest of the time. And at least fifty shades in between.
The biggest cliché of all is the most worrying: Grey needs to control everything because he is traumatised by a horrific childhood. It is well documented that the proportion of screwed-up people into BDSM is pretty much the same as the proportion of screwed-up people in the world at large – and many people are into this form of eroticism for 'no good reason'. (Perhaps they just like it?)
It's bad enough that these cliches reinforce the popular perception of BDSM propagated by the mainstream press. But the worst of it is the dynamic James sets up between BDSM and 'healthy' vanilla sexuality. Grey uses BDSM as a way to avoid intimacy, expressing the paltry amount of love he can muster by controlling and beating his subs. By contrast Miss Steele is gushing with love, and as she gains confidence she winsomely nags for 'more' from their relationship. As he relents the message becomes clear: nice healthy vanilla love can save this troubled man from himself and his twisted desires. This dynamic is the real danger of the book for the public perception of BDSM.
I believe that at its best BDSM should be done from a place of love and mutual respect, ideally by people who are also comfortable being intimate without any power-play or pain. (I know that vanilla sex simply bores some people, but the fact that Grey is incapable of being touched is quite a big problem. Perhaps it's time he found a new therapist?)
When I see powerful people play with power, it's totally different from the messy, troubled kink of Fifty Shades. They do not waste energy wondering if being submissive means they are weak, or thinking 'He's so bossy' whenever they receive an instruction. The submissive chooses an empowered surrender and loans their power because they have some to loan. (Thanks to Rebecca Lowrie for that one.) Equally the dominant chooses to hold that power because they are strong enough to do so. For both sides the result is expansive, leaving them stronger and more empowered as a result.
Of course there is a spectrum between this ideal and the mess that is Fifty Shades, and that's ok: I don't expect people to wait until they're fully empowered before starting to explore BDSM. However this image of empowered people sharing power in a conscious way is useful as both guide and goal, a BDSM ideal to which we can aspire.
As my friend and mentor Dossie Easton likes to say, both the dominant and submissive are in service to the scene. This doesn't mean that the power play is fake – far from it. What it means is that it's truly and deeply consensual, a conscious sharing of power not another manifestation of power-over / power-under. There's enough of that in the rest of the world – who would we choose to re-enact it in the bedroom? In fact one of BDSM's great gifts is its capacity to heal power abuse in the world at large, by enacting it consensually and with love.
By contrast Grey's bossy control-freak feels weak, insecure and potentially abusive, and is perfectly matched by Anastasia's petulant, one-dimensional version of a young woman. Tracing a path through the valleys of crap writing and the mountains of cliches, we find that E L James has reinforced everything that is wrong with the mainstream view of BDSM – making it a neurotic power struggle between a weak man and a disempowered woman. In this way her book is a menace to kinky people everywhere.
At the same time it's no surprise that it's so popular, because it is heaps of contemporary conditioning condensed into a poorly-written, lowbrow volume. The publishers of Cosmo must love it.
Would you like to experience some excellent BDSM with a conscious and loving dominant? Find out more about Ecstatic BDSM with Faerie >>

Or if you'd prefer to attend a course:

On Sat 25th & Sun 26th April, Faerie & his partner Marti lead The Purple Door, a scintillating introduction to consensual conscious kink. Find out more >>

On Sat 16th & Sun 17th May, there's Shibari with Santi, a one- or two-day introduction to Japanese rope bondage by the amazing and talented Santi. Find out more >>